RISAFF President Andriole and Vice President Robinson attend the Biden for President rally at the New Hampshire Democratic Party Convention.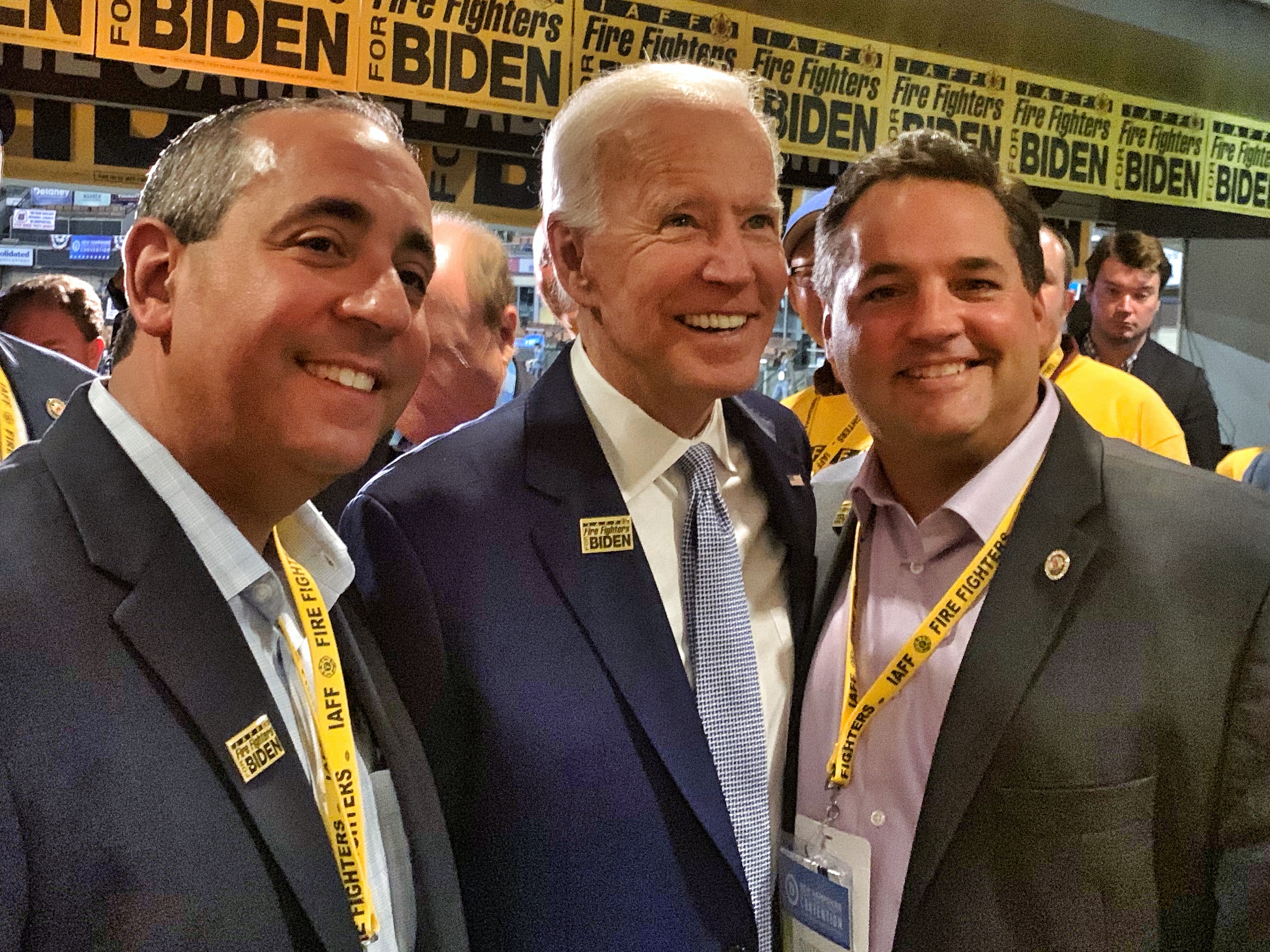 I would like to thank all the members, the Locals and Local Honor Guards who supported the Brothers and Sisters of both East Providence Local 850 and Johnston Local 1950 over the past few difficult days.

I would like to thank both locals in doing an outstanding job in honoring Lt. Craig Brearley, Local 850 and Firefighter Richard Gemma, Local 1950. Please keep both of thier families and the members of their respective locals in your thoughts and prayers.

Joe Andriole
President ... See MoreSee Less
Thanks for all you do.
RISAFF Staff is second to none their not only our Reps but also our Brothas🚒
Load more
Pawtucket Firefighters Local 1261 and RISAFF push back against Mayor Grebien's reckless actions against public safety! https://t.co/8BtZRqZt6H
Woonsocket IAFF Local 732 and RISAFF regret to announce the passing of active member:

Jeffrey R. Henault
IAFF Local 732 President

The arrangements for the calling hours and funeral are as follows:

Calling Hours:... https://t.co/epLZhgRUDQ
It is with the deepest regret and sorrow that RISAFF announces the death of Brother Jeff Henault. Brother Henault was the Chairman of RISAFF's Executive Board, past 1st District Vice President of RISAFF and the current... https://t.co/WlpeYQlnzj
PRESS RELEASE - RISAFF will be picketing Senator Mark McKenney tonight in response to his disparaging remarks about Fire Fighters concerns our safety.
H-5662 & H-5663 just passed the Rhode Island House with an overwhelming majority! One step closer to equal overtime laws for RI Firefighters!
IAFF Firefighters for Biden. RISAFF attending IAFF Legislative Conference this morning with keynote speaker Joe Biden.
RISAFF hosted our annual Legislative Dinner in Washington D.C. last evening with tremendous support from our RISAFF Locals. We would like to thank all our members that attended.

Another successful evening discussing... https://t.co/oBjwxfBc4I
RISAFF Leadership and our Local Affiliates attending the 2019 IAFF Legislative Conference this week in Washington, D.C. — at Hyatt Regency Washington DC https://t.co/PjeBJPSckR
Our thoughts and prayers go out to the family of Brother Christopher Cornetta and our Brothers and Sisters of North Attleboro Local 1992. https://t.co/AME3aOsXlB
Thank you to all the support from RISAFF and PFFM Firefighters and all other who supported the Brothers and Sisters of Pawtucket Local 1261 tonight!
REMEMBER TO SUPPORT PAWTUCKET LOCAL 1261 TONIGHT!

RISAFF Members along with Pawtucket Local 1261 Members will be picketing Pawtucket Mayor Grebien's fundraiser tonight. Local 1261 members have been engaged in a... https://t.co/kCekcL3DPF
RISAFF Members along with Pawtucket Local 1261 Members will be picketing Pawtucket Mayor Grebien's fundraiser tomorrow night. Local 1261 members have been engaged in a prolonged interest arbitration battle with the City... https://t.co/jmOYCF0845
Narragansett Local 1589 did an outstanding job honoring LODD Captain David Arnold today. Thank you to the RISAFF locals who came out honor Brother Arnold, may he rest in peace. Please keep his family, friends and Local 1589 in your thoughts and prayers.
President Joe Andriole and Vice President Scott Robinson attended West Warwick Local 1104 Firefighter's Ball this evening. Congratulations to Local 1104 on hosting a great event!
SAFER APPLICATION INFO

The Fiscal Year 2018 Staffing for Adequate Fire and Emergency Response (SAFER) application period opens Friday, February 15, 2019 at 8:00 a.m. and closes on March 22, 2019 at 5:00 p.m. (ET). There is $345 million available in... https://t.co/m51dIMRKIl
With deep regret RISAFF announces the LODD Death of recently retired Captain David Arnold, Narragansett Fire Department, Local 1589 from Occupational Cancer.

Captain David Arnold's... https://t.co/b3M9OC0PrJ
Rest In Peace Captain David Arnold. Sincere condolences to your family and the members of the Narragansett Firefighters IAFF Local 1589. https://t.co/K92JqQ0Izh
RISAFF President Andriole swearing in the elected officers of Woonsocket Fire Fighters, IAFF Local 732.

Congratulations to President Jeff Henault, Vice President Scott Smith and Secretary/Treasurer Ryan Reilly.
Great job RISAFF Vice President Scott Robinson on your peer support work here in Rhode Island and throughout the IAFF! https://t.co/wyAVk4XaLw
Load More...
Woonsocket Local 732 is hosting a Beer and Dynamite fundraiser for the Henault Family. Tickets are being sold at any Woonsocket Fire Station, at the RISAFF office or may be purchased at the door. In addition, tickets will be available at the September RISAFF meeting.