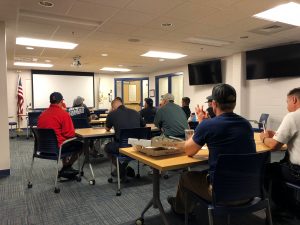 RISAFF's First Outreach Meeting/Presentation with our Locals
On Wednesday, May 9, 2018, President Andriole kicked off an outreach campaign of the Rhode Island State Association of Firefighters in Middletown with our Brothers and Sisters from Middletown Local 1933, led by President Jon Reese.
As discussed at prior Executive Board and State meetings, RISAFF will be touring our Locals that wish to have RISAFF make an appearance and presentation at their Union meetings. This is a multi-purpose program. Foremost, to meet our members of RISAFF, explain all functions of our state organization including labor relation matters such as collective bargaining, grievance arbitration, contract arbitration and state labor board actions. We will explain RISAFFs role in legislative advocacy, protecting widow benefits, and our ability to provide our members with competitive cost and access to life insurance.
Additionally, to make sure our members are aware that RISAFF has a state-wide members assistance program and that annual health, safety and labor relations conferences are held to educate our members. Also to discuss ways to stay informed about state and local meetings, events and fundraisers.
Our mission will also include, as always, our belief in Union solidarity. There will be trying times ahead of all Unions with the likely outcome of the Supreme Court Janus v. AFSCME case. RISAFF will be discussing with our members the importance of maintaining our solidarity under what may come of this case.
If your Local would like to participate in this program please reach out to President Andriole.
Thank you to President Jon Reese and the members of Local 1933 for being the first to participate! RISAFF looks forward to seeing you at your Union meeting soon!
Click here to add your own text